Gosudarev Zakaz
("Tsar's Request")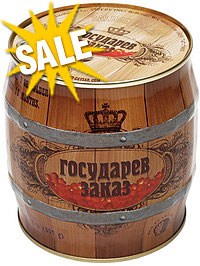 This Sockeye salmon roe has small sized, red color eggs and a savory taste; some eggs may be broken or juice may exist. Kosher OU
Buy

Delivery
We offer free delivery within 48 continental states. Delivery is provided by UPS.
More…
Nutrition Facts
Salmon caviar is a seafood delicacy; however, it is more than just a fancy treat for special occasions…
More…
| | |
| --- | --- |
| | Price depends on quantity purchased from $71.50 when buying a single can to $52.91 with purchase of 5 or more cans |
Podarochnaya
("A Gift")
Chum salmon caviar in 500 g (1 lb 1.65oz) can
Our highest quality caviar! This premium grade, Chum Salmon Caviar has large, well formed, light orange eggs with delicate texture and refined taste. Served traditionally on crepes or on buttered bread, this caviar won't leave you unaffected. Kosher OU. Treat your family or friends like royalty by giving them some of the world's finest caviar from Alaskan Salmon. Metal can is equipped with an easy-open lid and a plastic cover to insure freshness of the product when it is stored after opening. From the crystal clear, cold waters of Alaska to your table.
Buy More - Save More
When you purchase more than one can of our superb salmon caviar, you will receive a percentage discount on your whole order. The larger the number of cans purchased, the larger the percent discount given. You may purchase cans of a single type or a selection from both varieties to receive a discount off the price of the entire purchase.
| Buy | 2 | 3 | 4 | 5+ |
| --- | --- | --- | --- | --- |
| Save | 15% | 20% | 25% | 26% |
Calculator