Gosudarev Zakaz Caviar 907g
("Tsar's Request")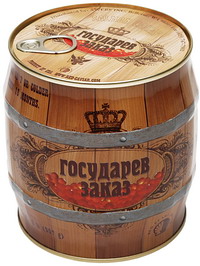 This Pink Salmon caviar has medium sized eggs and a subtle, delicate flavor and soft shell. This caviar makes a perfect accompaniment to many dishes! Kosher OU
Buy

Delivery
We offer free delivery within 48 continental states. Delivery is provided by UPS.
More…
Nutrition Facts
Salmon caviar is a seafood delicacy; however, it is more than just a fancy treat for special occasions…
More…
| | |
| --- | --- |
| | Price depends on quantity purchased from $87.00 when buying a single can to $64.38 with purchase of 5 or more cans |
Podarochnaya Caviar 500g
("A Gift")
Coho salmon caviar in 500 g (1 lb 1.65oz) can
Enjoy this high-quality Coho Salmon caviar from the crystal clear, cold waters of Alaska to your table. This salmon roe has well-formed, medium-sized, deep red eggs. The metal can is equipped with an easy-open lid and a plastic cover to insure freshness of the product when it is stored after opening. Kosher Certified by the Orthodox Union. Product of the USA.
Buy More - Save More
When you purchase more than one can of our superb salmon caviar, you will receive a percentage discount on your whole order. The larger the number of cans purchased, the larger the percent discount given. You may purchase cans of a single type or a selection from both varieties to receive a discount off the price of the entire purchase.
| Buy | 2 | 3 | 4 | 5+ |
| --- | --- | --- | --- | --- |
| Save | 15% | 20% | 25% | 26% |
Calculator